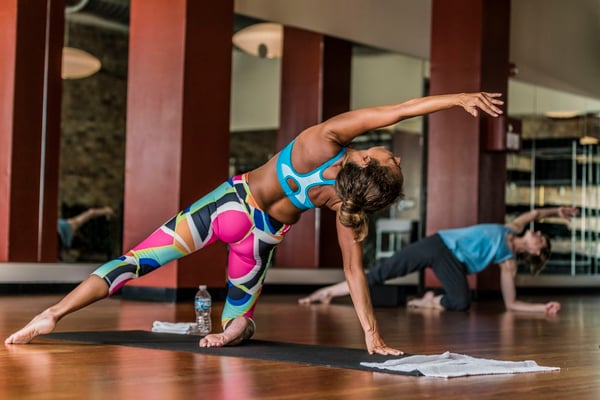 There is something about the hustle and bustle of the fall and the end of summer that can make us tense up and start to stress out. If you feel that happening to you, never fear! CAC Yoga Month is here! This month we celebrate this versatile and ancient practice by offering a variety of Pop-Up classes at all of our clubs, making it easy for you to check yoga out for the first time or try out a different kind of flow. There is something for everyone, whether you want to sweat away your stress or breathe and relax. best of all, these Yoga Month classes are all access, so no matter where you are you can pop in to any of our clubs for one of these sessions.
Check out the full schedule below or on our Events Calendar.
YOGA MONTH: SEPTEMBER 2019
All Yoga month pop-up classes are all club access
LVAC
Candlelight Yoga on the Rooftop Pool Deck
Friday, September 6th with Samantha M.
8:00-9:00pm
Rooftop Pool Deck
Unwind after a long week with a gentle Vinyasa class. Experience the power of the mind-body-spirit connection that yoga has to offer. Evening is the perfect time to refocus and reflect. Enjoy the sunset and sounds of the city while practicing on the rooftop pool deck at LVAC. Please arrive 15 minutes early. BYOM (bring your own mat) as there will be a limited supply available on the pool deck.
________________________________
BAC
Handstands and Forearm Stands, Part 1
Sunday, September 8th with Maria R.
1:30pm – 3:00pm
Studio 3
Headstands and Shoulder Stands, Part 2
Sunday, September 22nd with Maria R.
1:30-3:00pm
Studio 3
If you've always wanted to learn how to safely invert in a yoga class, whether at the wall or in the middle of the room, this workshop is for you! We will cover the four basic yoga inversions: headstand, shoulderstand, handstand, and forearm stand – with lots of options and variations to suit any practitioner.
________________________________
EAC
Hand Pan Yoga
Saturday, September 14th with Ken C. and Doran B.
2:30pm-4:00pm
Studio 2
Join us for this special yoga class led by Ken with live music from Doran Blakeslee. Doran plays hand pan (similar to steel drums); Tibetan signing bowls and chimes to enhance the yoga postures and settle in to savasana.
________________________________
WPAC
Yoga Things
Saturday, September 14th with Allison H.
2:00-3:15pm
Studio 2
Come celebrate your love of the 80's inspired science fiction and stretching with this Stranger Things Yoga class. 80's inspired attire encouraged!
________________________________
LSAC
Functional Flow
Sunday, September 15th with Dayna Y. and Rebecca D.
11:45am -1:00pm
Studio 1
A CXWORX and Yoga Flow mashup. Participants will experience a functional core strengthening workout utilizing isometric and functional exercises performed with body weight, bands, and free plates. The class will then move into a Yoga Flow portion where participants explore how to use various yoga practices to improve flexibility, mobility, and increase strength for a more balanced and functional body. BYOM (bring your own mat).
________________________________
WAC
Rockstar Women Yoga Sculpt
Wednesday, September 18th with Stephanie F.
7:00-8:00pm
Studio 2
Inspired by strong female artists from the 80's to now, including Gwen Stefani, P!nk an more! Taught by "Covergirls" performing artist Stephanie F.
________________________________
LPAC
Disco Flow Yoga
Saturday, September 21st with Allison H.
6:15-7:30pm
Studio 1
Follow the call of the disco ball in this 75-minute disco-themed vinyasa flow yoga class. The music will invite you to move from a groovy place. Strike a far-out pose under the glimmer of a disco ball. Can you dig it? Enjoy a disco dance and a drink Rose Cava after the class.
________________________________
WEBSTER PLACE
BODYJAM + Flow Mash-Up
Thursday, September 26th with Nikki S. and Hannah B.
7:00-8:00pm
Studio 1
BODYJAM is the cardio workout with an addictive fusion of the latest dance styles and hottest new sounds, putting the emphasis on having fun as much as on breaking a sweat. After 30 minutes of dance craziness, take your moves to the mat and flow from a dance pose into a yoga pose with a 30 minute Vinyasa class.