November is for Members CAC!
The CAC community is strong, vibrant, and healthy because of members like YOU! We are excited to show our appreciation to our fit-fam all month long because November is for our Members.
We're expressing gratitude by hosting your favorite pop-up classes, offering complimentary treats, giveaways, opportunities to come together at CAC Happy Hours in the community, and so much more!
Member appreciation events are All Access. We invite you to explore a club location you've never been to this month and enjoy as many appreciation events as you can.
Check out the full line-up of events and details below. Thank you for being a valued member at CAC!
Be sure to show your CAC swipe tag upon entry to receive CAC Happy Hour deals!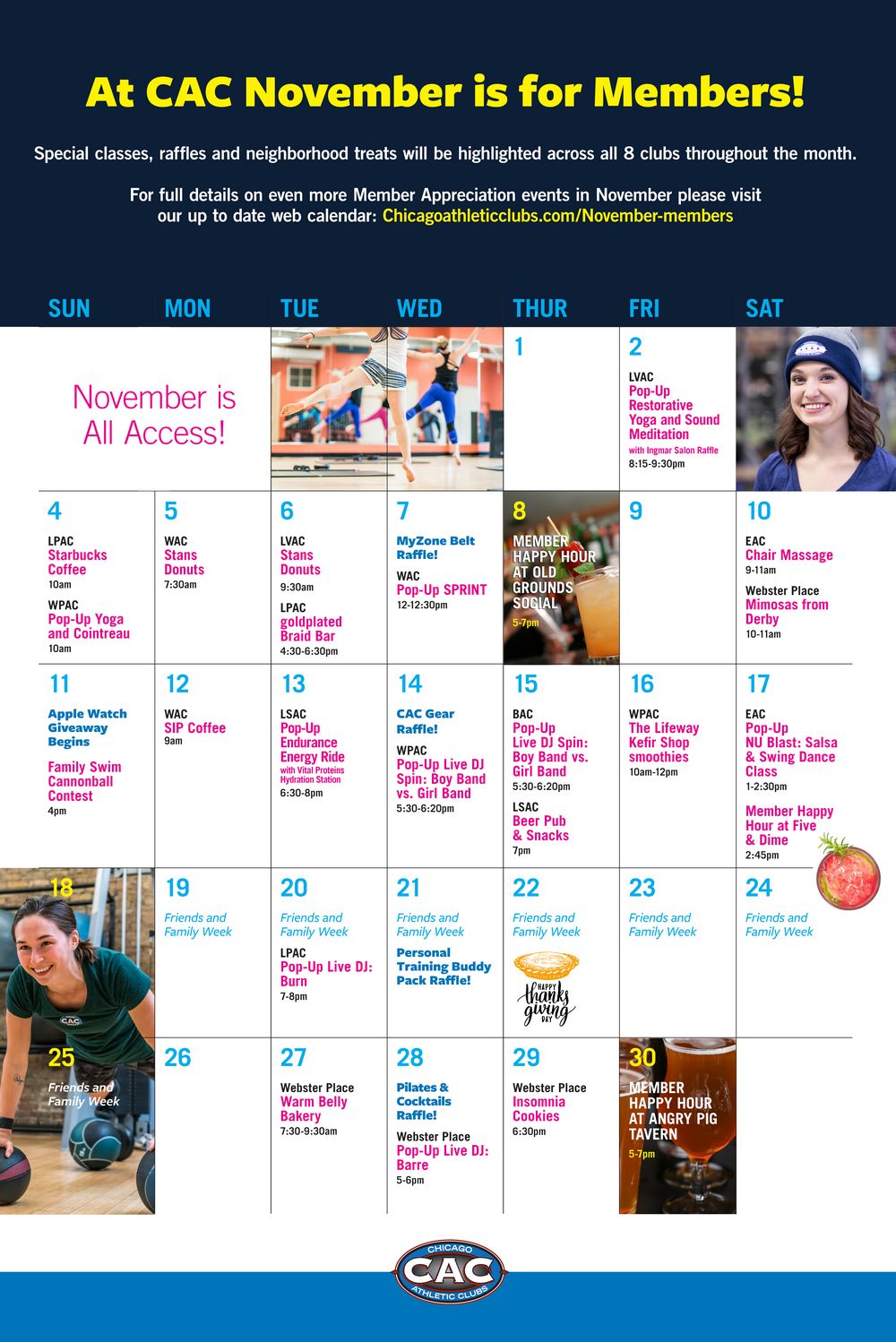 11/2: Pop-Up Restorative Yoga with

Ingmar James Salon

raffle @LVAC
The holidays are approaching, self-care has never been more necessary. We've got you covered with LVAC's Pop Up Restorative Yoga class sponsored by community fav, Ingmar James Salon. LVAC's salon neighbor is raffling a generous gift basket of spa essentials so treat yourself to this class and enter to win this self-care package!

11/4: Starbucks @ LPAC 9-11am


Snag a complimentary Starbucks coffee on your way out of LPAC today! Don't snooze on this free caffeine- it's just while supplies last!

11/4 Yoga & Cointreau @ WPAC 10am




Get a

head start

on your Sunday Funday with a Cointreau cocktail after Yoga at 10am at Wicker Park!

11/5: Stan's Donuts and coffee @ WAC

7:30am




Sc

ore a

Monday Morning Pick-Me Up

from

Stan's Donuts and Coffee on your way in or out of the club today! Monday might be tough- but free donuts and coffee is easy and delicious!
11/6: Stan's Coffee @ LVAC 9:30am- 11:30am




Treat Yourself Tuesday! S

core a

coffee to go

this morning from Stan's Donuts and Coffee.
11/6: g

oldplaited

Braid Bar @ LPAC 4:30pm- 6:30pm




Give your look a quick refresh at the

goldplaited

pop-up braid bar in the LPAC

lobby

from 4:30-6:30pm!

11/8: Member Happy Hour @ OG Social 5-7pm
Let's take our fit-fam out of the clubs and into the community for libations, lite bites, and conversation! Half off drafts and apps from 5-7pm at Old Grounds Social in Lincoln Park!


App Deal- 20% off dine in; 1 use per member, 11/1-11/30.

11/9: Starbucks in the lobby @ EAC 9am


Friday freebies! Snag a cup of Starbucks coffee on your way out of EAC today! Don't snooze on this free caffeine- it's just while supplies last!
11/9: Imperfect Produce @ WPAC 12pm


Imperfect Produce will be in the lobby handing out exactly that… slightly strange pieces of fruit! Score some ugly produce and enter to win a free BOX delivered to your home.


11/10: Chair Massage

@ EAC 9:00-11:00am


Release your stresses with a free chair-

massage at EAC this Saturday

. Stop by the 2

nd

floor lobby to receive your 10 minutes of "me time" from

9am-11am.

11/10: Derby Mimosas @ Webster 10-1

1am


Start your #basicweekendbrunch off right with a Mimosa from Derby Bar after your Saturday morning sweat sesh at Webster Place!


11/11: Pop-Up Self Defense Class for women @ LSAC 10-11:30am with Aaron Christensen
Back by popular demand, in this 90-minute session with American Women's Self Defense Association-certified instructor, Aaron "AC" Christensen, you will learn valuable non-violent de-escalation and avoidance skills, as well as fundamental defense tactics against physical and sexual assault. All skill levels are welcome. Sign up at LSAC's front desk--class is limited to 30 participants.


11/12: Unabridged Raffle @ LVAC


The LVAC

Membership

t

e

am will be popping into 3 SECRET classes today to raffle off a $25 gift card to Unabridged Books! Could it be your lucky day at LVAC??

11/12: S

IP coffee and treats @ WAC


Monday just got less scary in the West Loop thanks to local favorite, SIP Coffee! SIP will be offering complimentary coffee while supplies last!

11/13: Vital Proteins- Endurance Ride hydration station @LSAC 6- 8pm




Stop by the Vital Proteins Hydration Station in the lobby from 6pm-8pm to sample a variety of VP beverages! Jump into our POP-UP Endurance Ride class at 6:30pm and receive a special Vital Proteins gift, post-class!
11/15: Goose Island beer +

Pub

snacks @ LSAC i

n the Training Space 7pm


LSAC has created the perfect reason to commit to a Thursday evening workout at LSAC: post workout Goose Island brews and pub snacks! Stop by LSAC's new small group training space in the pool building 7pm.


11/16: Lifeway Kefir Smoothies @ WPAC 10am-12pm


Fri-YAY: Sample a smoothie from Lifeway Kefir this morning to start your weekend off right!

11/17: Pop-Up NU BLAST Salsa & Swing dance class @ EAC 1-2:30pm.
Come prepared to dance it out for this FREE class: 45 minute salsa lesson followed by 45 minute swing lesson. All levels welcome! Please wear comfortable shoes and clothing.
11/17: EAC Member Happy Hour @ Five & Dime 2:45pm
Before turkey and mashed potatoes, let's have a fiesta! Come prepared to enjoy complimentary chips Chips and Salsa, quesadillas, and 1 can of free Tecate (while supplies last)!

11/27: Warm Belly Bakery-

coffee and treats @ Webster 8:00-9:00am


Treat Yourself Tuesday! Snag a delicious Warm Belly cookie to-go to follow your early morning work-out.

11/29: Insomnia Cookies @ Webster 6-9

PM


Snag a post-workout treat at Webster Place from Insomnia Cookies from 6-9pm (or before everyone else does!)

11/29: Virtue Cider @ BAC 7-8pm
Start your weekend early at BAC! Sip a complimentary Virtue Cider on your way into our out of the club tonight!
11/30: Member Happy Hour @ Angry Pig Tavern 5-7pm
One last hoorah for our fit-fam during member appreciation month! We invite all our members to the Angry Pig across from BAC for a member Happy Hour. See you there!
App Deals -
Warm Belly Bakery:

Get 10% off One tin of 6 or 12 cookies when you show your CAC card. Redeem discount at Warm Belly Bakery retail locations only. Not valid for online orders.

1 use per member, 11/1-11/30.
OG Social:

App Deal- 20% off dine in; 1 use per member, 11/1-11/30.


Ingmar James Salon: CAC members receive 20% off any single product, and $15 off to new clients! Present app to redeem, 11/1-11/30.