Get Lucky Week at CAC!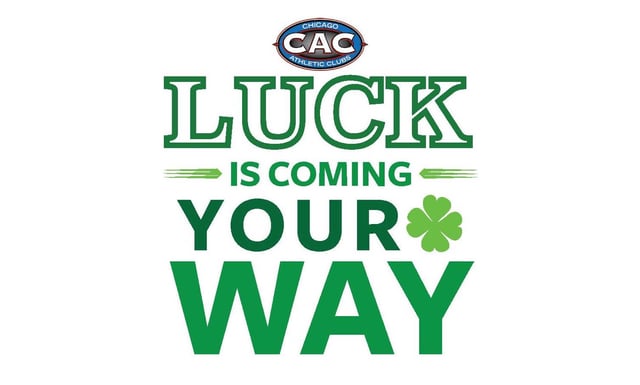 Check out all the awesome opportunities to win big
the week of March 17th-March 23rd
Members may bring a local guest for FREE everyday March 17th-March 23rd
Every day of the week we will be raffling off a prize to one lucky member. You may enter the raffle every day you check in 3/17-3/23
3/17-My Zone belt
3/18--$100 Gift Card to Farmhouse
3/19- Fleet Feet Race and Recovery Basket
3/21- 1 Night stay at the Robey Hotel
3/22- 1 Private Group Fitness Class or Party
3/23- 2 Months of Membership
Get ready to get lucky!

March Pop Up Classes
Love pop up classes? So do we!
Lucky you, we've got a bunch going on this month!
See the full list
WEST LOOP
Pre/Post-natal Studio Strength with Dahlia F.
Thursdays, March 16-April 20 (6 weeks)
10:30-11:30am
Studio 1
BUCKTOWN
Yoga For Runners w/ Brian W.
Saturday March 25th
1-3pm
Studio 3
LINCOLN PARK
BURN with Julie S.
Sunday, March 26
11:30am – 12:30pm
Spin Studio
WEBSTER PLACE
Total Body Training - Fireman Edition with Jeremy H.
Tuesday, March 28
12pm -1pm
Studio 1
A special strength/cardio class based on the athletic skills test Chicago firefighters must pass
LAKEVIEW
Zumba 2 hour marathon party
Friday, March 31
6:30-8:30pm
Studio 1
LINCOLN SQUARE
BODYJAM March Madness
Wednesday, March 22
7:00pm-8:30p
Instructors: Jojo Y. and Nikki S.
Studio 1
Hip Opener Pop Up Workshop
Sunday, March 19
9:30am-11:00am
Rebecca D.
Studio 2
March Madness Spin Endurance Ride
Friday, March 17
6:00am-7:30am
Julie S.
Spin Studio
March Madness Team Ride
Wednesday, March 29
9:00am-10:15am
Ashleigh B. and Steph B.J.
Spin Studio
WICKER PARK
BODYSTEP Athletic
Fridays for four weeks, March 24 – April 15
5:30am-6:30am
Stephanie B.J.
Studio 1
SPRINT Pop Up
Sunday, March 19
10:00am-10:30am
Nikki S.
Spin Studio

Circuit 360 at WAC
You're in luck with this amazing event!
SWEAT. BOX. SPIN. DRINK. SNACK.
Join us March 16th for Circuit 360 at WAC


6:30-8:30 Training Demos, Beer from Goose Island and Snacks in the weight room
7:00-8:15 CIRCUIT 360, experience all that the new West Loop has to offer with 3 workouts in 60 minutes. SWEAT. BOX. SPIN
Kids Club will be open and available until 8:30pm that night.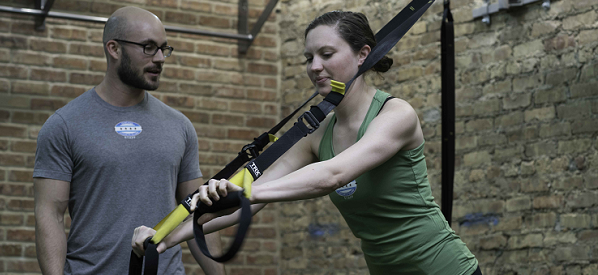 Personal Training
Have you been wanting to get started, but waiting for the right time?
You're in luck! Take advantage of our introductory Personal Training Special, 2 sessions for $99 to get started now!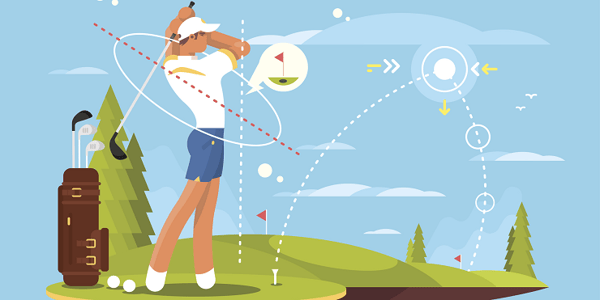 WAC Golf Small Group Training
It's time to start gearing up for golf season! The new WAC Golf Small Group training program will prepare you for your best season yet!
The WAC Golf program will focus on the mechanics of the physical side of golf. With only 8 spots available, make sure to reserve your spot now! Please contact Brandon Yates at brandon@chicagoathleticclubs.com to reserve your spot or for more info.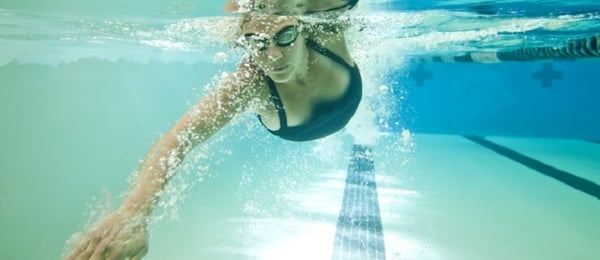 Pool and Swimming Programs
at CAC
Learn to swim for adults and kids
There's no time like the present to get started with a life aquatic! We've got opportunities for every level.
Pool programs for adults
Pool programs for kids
Be a Triathlete with CAC Triathlon Club
Up your game, take it out of the pool. Train to be a triathlon warrior.
Get Started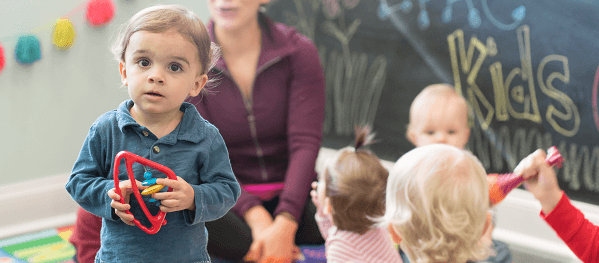 Kids Clubs at CAC & EAC

LPAC Kids Club Ballet is BACK!
February 28th-April 9th
Lincoln Park Athletic Club: Studio 1
Register here


CAC Kids Club Movie Nights & Matinee
LSAC March 3 | The Secret Life of Pets
WAC March 17 | Moana
LPAC Movie Matinee March 25 | Beauty and the Beast
Register here
EAC Parents Night Out
Saturday, March 11th; 5:00-8:00pm
Splash Party!
Learn more here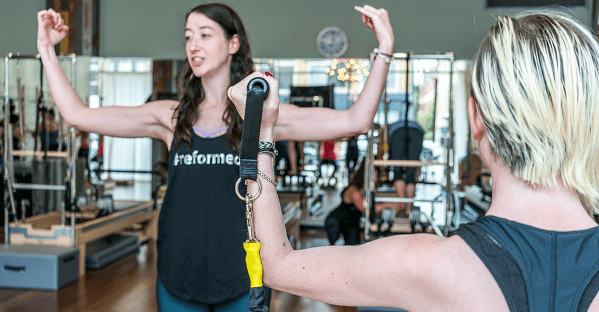 CAC Pilates Department
Love Pilates privates but not in your price range?
Introducing 2 on 1 sessions!
Join with a friend or we can find a partner for you.
March Specials
$50 off semi private packages (8 or 16 packages only)
2 private sessions for $99 (for new clients only)

New Classes with Monika in Evanston!
Thursday 6:30pm
Saturday 10am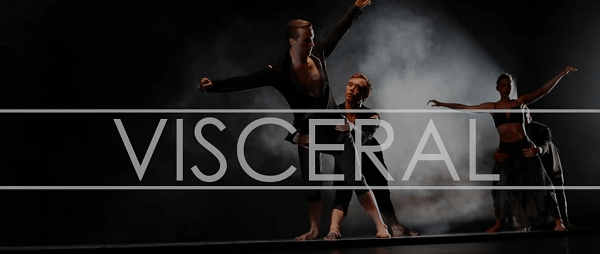 Chicago Philharmonic + Visceral Dance Chicago: The Dream
The Chicago Philharmonic joins forces with Visceral Dance Chicago and award-winning choreographer Nick Pupillo for one performance only. Music, dance, and literature converge in this dazzling, theatrical reimagining of Fyodor Dostoyevsky's story "The Dream of a Ridiculous Man." Musical masterpieces of Dmitri Shostakovich, Osvaldo Golijov, and Radiohead's Jonny Greenwood are highlights in this remarkable collaboration.
Sunday, March 5th at 3:00pm
CAC Members use code
VISCERALCAC
for 20% off tickets!