Purchasing your Virtual Pilates Small Group single class or 10-class package is simple. First, you'll need to have an account setup through out software system. If you are a current member of CAC or client at Studio 1002 Pilates or Studio EAC Pilates please proceed through the steps below to purchase and book your Virtual Pilates Small group class(es).

If you are not a current member and have never visited one of our Pilates studios, please contact Pilates Director, Megan Dillow at mdillow@chicagoathleticclubs.com so we can create a profile for you in our software system. Once we confirm you are in our software system, come back to this page and proceed through the purchasing and scheduling steps.

Below you'll find step-by-step instructions for:
REGISTERING YOUR MICO ONLINE ACCOUNT
HOW TO PURCHASE A 1-PACK PR 10-PACK OF CLASSES
HOW TO BOOK YOUR VIRTUAL PILATES SMALL GROUP CLASSES
HOW TO CANCEL A VIRTUAL PILATES SMALL GROUP CLASS



REGISTERING YOUR ONLINE ACCOUNT- MICO (My iClub Online)


In addition to purchasing and booking classes, on MICO you are able to manage all account details including update billing and contact information. Here's How to Register your MICO account:
Click on Register
Type in your

Agreement #

(If you don't know your Agreement #, click Retrieve agreement number, then enter your email address. Once you receive your agreement number via email, move on to the next step)
Enter your zip code
Create your username and password
Click Register
Click Sign In

and continue by entering the username and password you just created
HOW TO PURCHASE A 1-PACK PR 10-PACK OF CLASSES
(Screenshot below)
When you are logged in to myiclubonline.com, set your location to Lincoln Park Athletic Club
Click SHOP in the upper left corner
Select the sub category Classes
Select Buy Now! and purchase your 1-pack ($15) or 10-pack ($130) of Virtual Group Class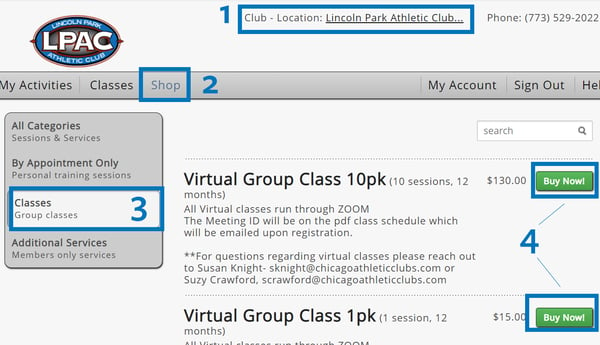 HOW TO BOOK YOUR VIRTUAL PILATES SMALL GROUP CLASSES
(screenshot below)
Now that you have classes on your account you are ready to book your classes for the month.
Click Classes in the upper left corner
Select the sub category Enroll in a Class
All CAC classes will appear. Narrow your search by typing Virtual Pilates in the search box
Click Enroll Now to book your class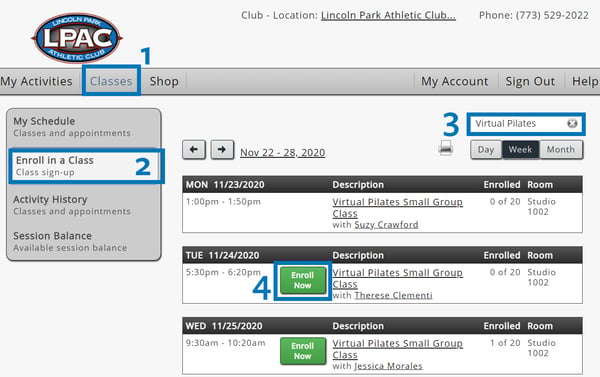 HOW TO CANCEL A VIRTUAL PILATES SMALL GROUP CLASS
Click Classes in the upper left corner
Click sub category My Schedule to see all classes you have booked
Click on the class you want to cancel and select Drop Class
*if it is less than 24 hour before the start of the class, you will be unable to cancel the class