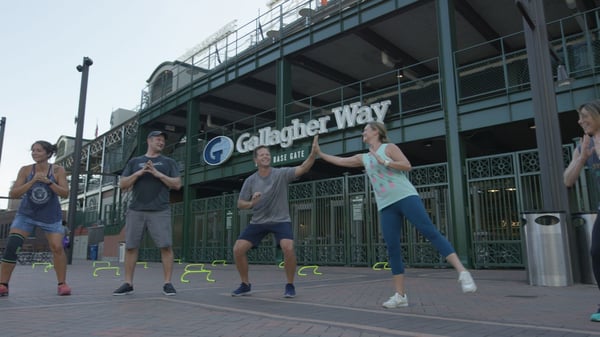 This summer there is absolutely NO excuse not to get out there and get moving. Chicago Athletic Clubs is proudly hosting this years' FREE Summer Fitness Series at Gallagher Way outside of Wrigley Field in Chicago! This is your summer opportunity to be fit, have fun and stay outside with some of the best group fitness class instructors in the city of Chicago!
What is this awesomeness?
This is a 100% FREE fitness series with workout classes open to everyone, taught by our amazing Group Fitness Instructors from right here at CAC! There's yoga classes, cardio classes, Pilates classes, strength classes and a running club - so, basically, something for everyone. Oh yeah, and did we mention its FREE? All you have to do is complete an online waiver before attending (waivers will be available at the events as well).
When can I go to these awesome free classes at Gallagher Way?
These classes happen every morning Monday through Thursday, and Saturday Run Club. The full series goes through Saturday, September 29th, but don't wait to join up! You can check out the schedule below, complete with instructor bios and class descriptions. See you at the park!
FITNESS SERIES AT THE PARK
Monday, May 7th through Saturday, September 29th
Including Holidays
Monday and Wednesday HIIT classes: 7am – 7:45am
Tuesday and Thursday Yoga classes and first Thursday of the month Pilates: 7am-8am
Saturday Run Club: 7am – 8am
MONDAYS: HIIT Summer Series: Cardio
With Katie Duffy and Andra Lopez
This is THE high intensity interval training class you won't want to miss! The HIIT Summer Series cardio workout on the Park at Wrigley is designed using a variety of exercises to improve your athletic capability, increase metabolism and burn fat. By combining high intensity exercises such as running, lunging and jumping with active recovery intervals, you will feel and see the results fast.

Katie Duffy
A city girl now, but originally from: Elk Grove Village, IL
Words of motivation: You will feel your heart beating fast and your muscles burning. Each week there will be a variety of exercises and the work to rest ratios which will continue to challenge your body and improve your endurance. You will leave classes ready to conquer the day and excited to come back for more classes in the Park.
When not teaching: Katie is visiting her family in the suburbs or finding "me" time.
Guilty pleasure: holiday-themed Reese's Peanut Butter shaped candy. Pumpkins, Christmas trees, Hearts, Easter Eggs. Everyone needs a little sweetness in their life!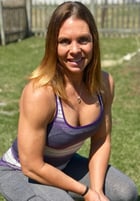 Andra Lopez
A Chicagoan now, but originally from: Milan, MO
In the Studio: you will feel energetic and athletic
When not teaching: Andra is getting her own sweat on and watching sports
Guilty pleasure: Reading romance novels
TUESDAYS: Multi-Level Yoga
with Katy Kelnhofer
Challenging the skill level of each participant, from beginner to advanced, Multi-Level Yoga improves mobility and flexibility, increases strength, builds endurance and develops a stronger mind-body connection through breath control, simple meditation and the adoption of specific poses. BYOM (Bring Your Own Mat).

Katy Kelnhofer
A Chicagoan now, but originally from: Canton, OH
In the Studio: Initially attracted to the physical practice, I quickly realized how much the meditative and spiritual elements of yoga were positively influencing my life. I find the practice of yoga to be a powerful connection between the mind, body and spirit. My classes are multi-level, creative, energizing and welcoming with music that connects us all. I genuinely loves working with students of all levels and hopes to help them find the joy, connection and dedication through their practice as she has found. My goal is to bring everyday life to yoga and yoga to everyday life. On the mat and off the mat.
When not teaching: reading, writing, practicing yoga, catching up for coffee with loved ones.
Guilty pleasure: Big fluffy robes and socks (the kind that go up to your knees and lots of showers and baths throughout the day--love feeling clean!
WEDNESDAYS: HIIT Summer Series: Strength
with Andra Lopez and Uti Lopez
To complement HIIT SS: Cardio, the High Intensity Interval Training Summer Series: Strength workout incorporates strengthening moves such as squats and push-ups, using your own body weight, to burn calories and fat, gain strength and quickly produce lean body muscle.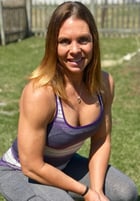 Andra Lopez
A Chicagoan now, but originally from: Milan, MO
In the Studio: you will feel energetic and athletic
When not teaching: Andra is getting her own sweat on and watching sports
Guilty pleasure: Reading romance novels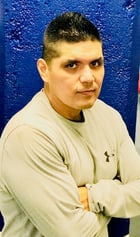 Ulti Lopez
Born and Bred: in Chicago
In the Park: you will feel a friendly competitive atmosphere
When not teaching: Ulti is playing sports and walking dogs
Guilty pleasure: watching musicals
THURSDAYS: Pilates at the Park the first Thursday; Vinyasa Flow Yoga on the 2nd, 3rd and 4th Thursdays of the month
Pilates at the Park with Megan Dillow
Strengthen, stretch and lengthen your muscles while improving posture and reducing stress and tension. All levels welcome! BYOM
Megan Dillow
Originally from: Bartlett, IL
On the Mat: Pilates is for all age groups and body types, from beginners to professional athletes, Pilates has no boundaries. In class, we will move you in every direction; challenging your strength, flexibility, balance, and coordination. After class you will feel taller, stronger and more in tune with your core.
When not teaching: She is having a dance party with her three amazing kids
Vinyasa Flow Yoga with Allison Hendrix
This dynamic and physically demanding style of yoga is energetic and heating, as it flows from one pose to the next. Great for building stamina and strength. Experience meditation through movement. Prior experience not required.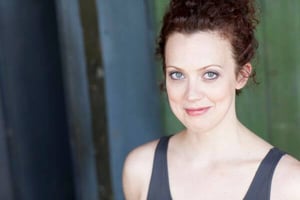 Allison Hendrix
A Chicagoan now, but originally from: Kalamazoo, MI
On the mat: you'll gain strength and flexibility from this quick, creative vinyasa flow, with good tunes and plenty of laughs
When not teaching: Allison works as a director, artistic director, pianist, and actor in Chicago theatre.
Guilty pleasure: Dance Movies! Everything from Footloose to the entire Step Up franchise; I'll forgive all of the bad acting and plot devices for amazing choreography and stories about teamwork and following your dreams.
SATURDAYS: Run Club (1 social run group, 1 training run group)
Social Run with Kaityln Faist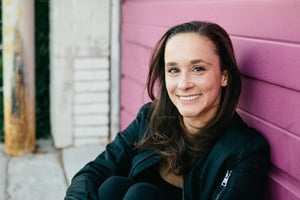 Kaitlyn Faist
A Chicagoan now, but originally from: Cleveland, OH
On the Run: you will feel inspired and unstoppable
When not teaching: Kaitlyn is eating!
Guilty pleasure: watching Grey's Anatomy
Training Run with Julie Speck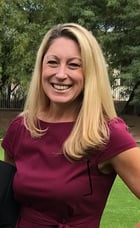 Julie Speck
A Chicagoan now, but originally from: Barrington, IL
On the Run: you will feel inspired and motivated while building confidence mile after mile
When not teaching: Julie is running, managing CAC group fitness or hanging out with her family
Guilty pleasure: Dairy Queen