This fall, Chicago Athletic Clubs is gearing up for its Vinyasa Yoga Teacher Training and Practice Immersion, a 200-Hour Yoga Alliance Certified Program.
During the 6-month program, September 2020 – February 2021, students will find the space to dive deeper into the rich history of Yoga and learn the skills and wisdom to develop and lead safe, effective, empowering and inspiring Vinyasa Flow classes.
Thinking about expanding your practice and joining this fall's training?
We could go on and on about why you should—but wouldn't you rather hear from the students who completed last year's program?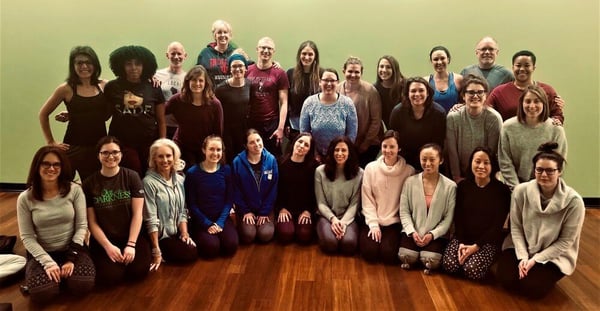 Here's what students from the 2018-2019 program shared about their experiences: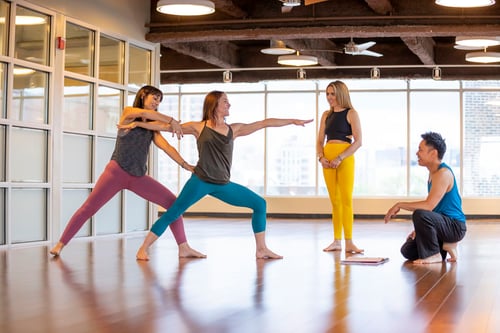 "My experience in the Chicago Vinyasa Yoga 200-Hour Teacher Training Program was truly transformational. I entered the program with the intention of deepening my personal practice and learning more about the philosophy of yoga. In the beginning, I was a little nervous that I might not be advanced enough for the program. Thankfully, the teachers encouraged everyone to meet ourselves where we are on the mat, to push ourselves to our own edges, and to listen to our own bodies. I quickly learned that there was no such thing as "being advanced enough" and that the yogi you are in that present moment is more than enough. Each week I was inspired by the lessons and eager to apply the yogic principles to both my personal practice and my life in general. I learned so much over the 6-month program, and surprisingly never felt overwhelmed with trying to balance the program requirements with my corporate day job. Even though my original intent wasn't to teach, 3 months after completing the program I've found myself holding space for 3 classes a week. As I navigate life as a new yoga instructor, I find comfort in knowing that I still have my classmates and teachers to lean on for support during this journey." --Kenyatta D.
"The 6-month time frame allowed me to implement and understand the concepts we learned every week in training. I feel very lucky and honored to have such amazing teaching in this training. I would highly recommend to anyone!" –Stephanie J.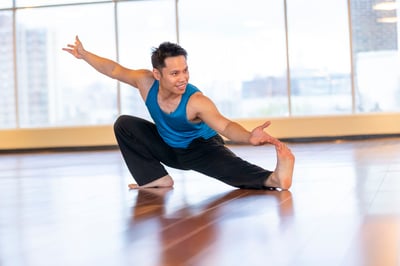 "I had my first yoga class 11 years ago and just started to practice in the last 3 years. I found a lot of excuses in the past to not do the yoga teacher training; tights hips and hamstrings, I didn't feel good enough, no time, etc. At the last minute I decided to commit and it was one of the best experiences of my entire life. All the teachers involved in the training are amazing yogis and more than that, they are wonderful human beings. I highly recommend it. It changed my life. I got the chance to meet amazing people, learn about an amazing philosophy and lifestyle and learn even more about myself." –Flavia R.
"Wow! This training was better than I imagined! A truly immersive experience diving into all aspects of yoga. Classes covered everything from alignment, breathing techniques, meditation, yoga history, special populations, and anatomy. The instructors did a wonderful job creating a safe community where everyone was valued. The schedule worked really well with my regular work hours. I would recommend the training to anyone interested in deepening their practice or becoming a yoga teacher." –Kelly M.
There you have it! Discover your own journey by joining the next group of students in this fall's CAC Vinyasa Yoga Teacher Training and Practice Immersion.