Wicker Park Athletic Club
reopens October, 16th at 12 noon
We are excited for WPAC to reopen just in time for fall! We are working on finalizing the group fitness schedule, so group fitness at WPAC will resume shortly after reopening. Once the schedule is complete, it'll be available through the website on the schedule page and via the app.
Refer a friend, save 50%

It's time for a WIN! For a limited time when you refer a friend who joins CAC you and your friend BOTH get 50% off your next month's dues*. It's a win-win!
Forward your friend this email and have them fill out the Refer a Friend form to redeem the offer.
*50% off for the current member will be applied 14 days after your friend joins. If your billing date falls within those 14 days, the 50% off will be applied to the following month.
.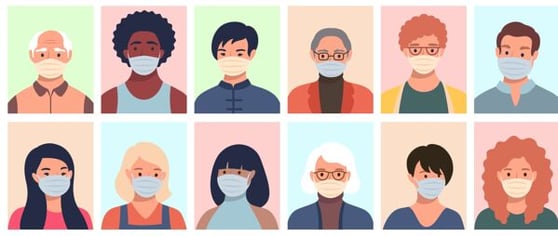 Mask Reminders
Reminder, face masks must cover your nose and mouth and fit snugly under your chin, over the bridge of your nose and on your cheeks. Neck Gaiters/buffs, bandannas, and masks with exhalation valves or vents are not acceptable face coverings in the gym. Refer to the CDC face covering guidance for more details.

Masks must be worn the entire time you are in the club, including in the locker room. This means brushing teeth, shaving, face washing and make-up application are not allowed in the locker room. The only time a mask may be temporarily removed in the gym is when you are taking a shower, swimming, or participating in an Aqua class (More information below about Aqua classes returning at LSAC and EAC).

Thank you for respecting the safety of CAC and its members. We appreciate you!
Get swimming with 3 for $99!
New to swimming? Get started off right with this limited time offer of 3-30 minute private swim lessons for only $99!
Cash in this offer here


Group Fitness Updates
Thank you for using our new CAC Mobile App to book your spots in classes and at the pools. In the event that you cannot make it to a reserved class or pool lane, please cancel with as much notice as possible to give members on the waiting list the opportunity to attend class. You can cancel your reservation up to thirty minutes in advance. In the event that you need to cancel your reservation less than thirty minutes prior to the start of your reserved class or lane, we ask that you call your respective club to cancel your reservation. Even when a class or pool reservation shows FULL, you can get on the wait list. Then, if someone cancels their reservation, you will be notified you have a spot in the class or pool. Remembering to cancel your reservation if you can't make it, allows another member to enjoy the class or pool!
Class Updates
Look for some changes to the Group Fitness schedules to go into effect tomorrow, October 2nd! We will be adding Studio Cycle and SPRINT at WAC, as well as some additional BODYPUMP classes across all clubs, plus more! Rad more in the next section about Aqua classes at LSAC and EAC.
Class Capacities
Early this week the City of Chicago announced starting today, October 1st, gyms may have up to 15 participants in indoor classes while keeping 6 ft physical distance (previously the cap was 10 participants). We've adjusted the class capacities in the studios where 6 ft physical distance can be maintained. You'll see these adjusted capacity numbers reflected on the app when you go to reserve your spot in class. Read the current City of Chicago Health and Fitness guidelines for more details.

Aqua classes return at EAC and LSAC
EAC and LSAC are happy to be adding Aqua classes to the Group Fitness Schedule starting tomorrow, Friday October 2nd. See the app or schedules on website for days, times and instructors.
The City of Chicago presented a webinar on the Overview of the New Phase Four Guidelines for Health and Fitness Centers on Tuesday, September 29th. The speaker reiterated that indoor pools can be open at 40% capacity (based on square footage) and PPE is not required while in the pool. Our Master Swim Team practices have been going swimmingly since we opened in July.

Reminder of pool rules and aqua class expectations:
shower before pool use
masks worn on deck until entry to pool
Lane Lines will be kept in the pool to help maintain physical distancing
maintain 6' distance (we will have visible 6 ft markers)
instructor to wear mask while teaching
classes will be planned to limit traveling
No equipment will be used
sign up on app, as with all other classes
Read swimming pools are a safe place to be working out for more information on pool safety during these times.

Swim lessons and Masters Swim
Adult Private Swim Lessons
Make a splash in and out of the water with Private Swim Lessons. Adult lessons are available at all location with pools: EAC, LSAC, LVAC, LPAC, and WAC. Visit Adult Swim Lessons for more information on adult swim lessons.
To get started with private lessons, contact Aquatics Director, Monika Suto

Kids Private Swim
Make swimming skills second nature! With the best instructors in the city, your kids will be swimming laps in no time. Kids private lessons are currently available only at LSAC and WAC only. Visit the Kids Swimming page for pricing and to sign up for private kids lessons.

Masters Swim
Take your swim training to a whole new level with CAC's Masters Swim team! Members of the Masters Swim program attend training practices led by coaches with elite swimming backgrounds, and (when competitions resume) have the option to compete with the CAC Masters Swim Team throughout the year, including at state and national championships. Masters Swim practices are held at LSAC and WAC.
Visit our Master Swim page for more information and to sign up.

Hours of Operation
Monday - Thursday
6 am - 9 pm

Friday
6 am - 8 pm

Saturday and Sunday
7 am - 6 pm