Don't sweat it, we're here for you!
You can still get your fitness fix in all holiday season long. Holiday hours are All Access, stay tuned for Special Holiday Group Fitness Schedules coming soon!

Holiday Hours
Christmas Eve 12/24 – 5am-2pm
Christmas Day 12/25 – 9am-2pm LPAC, LVAC, WAC, EAC;
Closed LSAC, Webster, WPAC & BAC
Day After Christmas 12/26: 7am-11pm

New Year's Eve 12/31: 5am-4pm
New Year's Day 1/1: 9am-2pm


Closing early December 15th for CAC Staff Celebration
All Clubs will close at 5:00 pm on Sunday, December 15th for the CAC Company Holiday Party. We will reopen at 5:00 am on the 16.
Happy Holidays to all!

Endurance and Small Group Training at CAC
Why wait to start planning your training for 2020? Let CAC Training help you out! Make it easy on yourself to hit the ground running in January by jumping into one of our Endurance or Small Group Training programs!
ENDURANCE TRAINING
CAC Tri-Club
Triathlon Club at CAC is all about training hard and having fun! With this professionally structured program you have all the training and support you need to train for a race or just get in great all around shape!
Learn more here
CAC RunClub
Come train with us! The CAC RunClub is your new community of runners of ALL levels and interests. We are here to help you crush your running goals - whether your training for your first or one-hundredth race or just looking to improve your running game. Train and hang out with people who share your passion for running, build your endurance and maximize your performance!
Learn more here
SMALL GROUP TRAINING
The best way to stay motivated is to have full support! Our Small Group Training programs are the perfect solution to hold yourself accountable while having fun and staying fit. Lots of new programs starting in January, check them all out!
Check them out here

Group Fitness
LSAC Studio 1 is getting a facelift!
There is fresh new paint on the walls and we will be getting new flooring, too! Studio 1 will be closed from Monday, December 9th through Thursday, December 26th. Members have all club access during this time.
View LSAC Temporary Group Fit Schedule here
New Group Fitness schedules to start on January 2, 2020! They will be posted on line and printed in clubs in late December.
Pop-Ups: BODYCOMBAT Express Pop up continues!
WPAC
Thursdays 7:00-7:45am

CAC Climbing Walls
The climbing walls of CAC continue to stay active, fun, and challenging! Here are a few highlights, but for full climbing wall updates go here!

Coming in December...

LVAC: Look for a boulder cave reset that will give all LVAC climbers enjoyable warm-ups, as well as some fun project problems, plus three new top rope routes on the big wall.

EAC: Three more new routes on the EAC big walls, and at least two more boulder problems set.

BOTH CLUBS: Both EAC and LVAC will be returning to a rolling monthly enrollment for youth class registrations. The registration links for all youth classes are now available on the website, and roster space is available.

Looking ahead to January, EAC is excited to announce that we're turning every Friday in January into Family Climb Fridays!! Keep checking the website for more details on this added Family Climb time, and we look forward to seeing you and your junior climbers there!
Holiday Cancellations
All climbing programming Tuesday, 12/24 through Thursday, 12/26 is cancelled.
All climbing programming Tuesday, 12/31 and Wednesday, 1/1 is cancelled.



Kids and Adult Swimming at CAC
Jump on in, the water's fine!
Just because the temperature drops doesn't mean the swimming stops at CAC! Winter is the perfect time to get in the pool and learn to swim.
Kids classes run all winter long, enroll them now to get them pool ready come summer.
Adult lessons too are the perfect low-impact and high reward training opportunity for anyone interested in staying in summer shape all winter long. Bonus: you can end each workout with a dip in the hot tub!
View Kids Swimming Lessons here
View Adult Swim Programming here



CAC Studio Pilates
Polestar Training begins January 11th.
For anyone interested in transitioning to a career as a Pilates instructor or Pilates enthusiasts who want to get deeper into their practice, Polestar is the premiere international training program, and Studio 1002 is the only place to take it in Chicago. Register now.
Learn more and register here
Introductory offer: 2 Private Pilates sessions for just $99!
Always wanted to try Pilates but still haven't? Start now with a2 Private Pilates sessions for just $99! A great gift for a friend or family member new to Pilates as well.
Get your 2 for $99 Pilates

Massage at CAC
3 Tips for a stress free holiday season
Stick with your daily health routine: exercise and watch what you eat.
Don't overextend yourself: Be ok with saying "No"
GET A MASSAGE at EAC or LVAC: Gift certificates are a wonderful gift for your loved ones and you!!

Warm up your Winter! Reduce holiday stress with one of our amazing massage therapists. Book now or purchase a gift certificate for a loved one at EAC or LVAC today!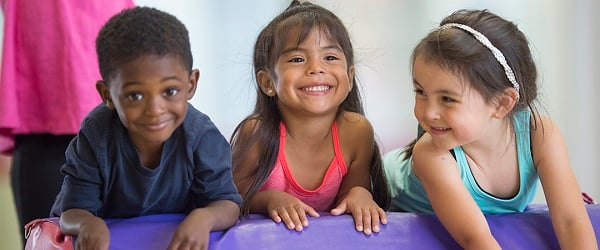 EAC Winter Kids Camp
Dates: 12/26, 12/27, 1/2, 1/3
Time: 10:00am-4:00pm
Ages: 3-7
Join us at EAC Kids Camp this winter! Activities Include: Swimming lessons, indoor rock climbing (ages 5+), arts and crafts, sports & movement classes, group games, and more! Parents will receive weekly update emails with photos of their little campers. We hope you'll join us!

Joffrey Ballet's The Nutcracker
November 30-December 29, 2019
Wheeldon's acclaimed turn-of-the-century tale opens on Christmas Eve, 1892, mere months before the grand opening of the 1893 World's Fair, as young Marie and her mother prepare for a Christmas Eve potluck celebration. The magic of the season takes hold when a visit from The Great Impresario sets off a whirlwind journey of romance and adventure through a dreamlike World's Fair. A must-see tradition boldly re-imagined for a new generation.
CAC members get 10% off with code CAC10
Get your tickets here

Regenevéda IV
We know peak performance and optimal recovery are important to you, especially during this busy holiday season. That's why we've created IV therapies and brought in the HOCATT steam sauna to help you kick that cold, have energy all day, or simply calm your mind.
20% off your first treatment!
IV memberships available
Call for a consultation or to book your appointment: 773.754.3303