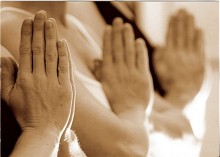 Chicago Athletic Clubs has some seriously magical events lined up to celebrate the final days of Yoga Month. We've paired the CAC special events with neighborhood spots that would be great for a post-yoga fuel up. Added bonus - all events are all access! So grab a friend and enjoy an evening dedicated to aligning mind, body, and soul.
Thursday, September 24th:
Evanston Athletic Club is hosting a Candlelight Yoga class from 7 p.m. to 8:30 p.m. Lane F will lead a multi-level Vinyasa flow class in the intimately lit studio 3.
Post-class, treat yourself to a few small bites at Tapas Barcelona and perhaps a little sangria, too.
Friday, September 25th
Add a dash of live music to your evening Vinyasa at Lincoln Park Athletic Club. From 7 p.m. to 8 p.m., Jyl F. and Gina S. will combine music and movement in a candle lit studio 3.
Paddy Longs - because it's Friday and convenience is key.
Friday, September 25th
Also on Friday evening, Wicker Park Athletic Club's studio 2 will host an all-in-one evening with yoga and wine! UNWINE'D: Spanish Nights, A night of Yoga and Spanish Wine will take place from 7 p.m. to 8:20 p.m. The evening features a 60 minute down-to-earth yoga practice that will flow into a 15-minute educational, boutique wine tasting with Rebecca Delott. Must be 21 years or older for the wine tasting. Please sign up at the front desk 60 minutes prior.
Saturday, September 26th
Ditch the brunch rush and check out Preston Klik at Webster Place Athletic Club for Ocean of Devotion Gong & Bowl Sound Meditation. Join Preston in studio 3 at 11 a.m. for a 90-minute journey that will not only aid in aligning mind, body, and soul, but will enlighten and please eyes and ears, too. To ensure you won't miss out, please sign up 60-minutes prior the start.
Keep the good vibes flowing by stopping into Protein Bar for a nutritious snack or a hearty juice.
Saturday, September 26th
If you're preparing for the Chicago Marathon or looking to sneak in a late afternoon yoga session, Ashleigh B. will be teaching Yoga for Athletes at West Loop Athletic Club's Studio 1. From 3:30 p.m. to 4:30 p.m. enjoy learning yoga sequences and poses that put emphasis on stretching hamstrings and quads while assisting in opening tight hips and as always, helping to build a stronger core.
With evening plans creeping close, perhaps just a little pick-me-up? Take a quick walk to Nohea to caffeinate and satiate.
Sunday, September 27th
Sweat away the sins of Saturday at Lincoln Square Athletic Club with Rich Tola's Fat Burning Vinyasa Yoga Workout. From 9:30 a.m. to 10:30 a.m. Rich will be teaching a one-hour Vinyasa class in studio 2 based on the fundamentals of his 15 Minute Fat Burning DVD, with an emphasis on core strengthening and body alignment. Sign up for the class starts 60 minutes prior at the front desk.
Just a short walk from the club's doors, stop over over at Baker Miller for some wholesome refueling.
Sunday, September 27th
Literally breathe in the good vibes Sunday evening with Bucktown Athletic Club's Aromatherapy Live DJ Yoga. The soulful sounds, sensual scents, and multi-level yoga with Laura D. kick off at 4:45 p.m. in studio 3 with JYLDO providing the beats and Katie Henry on the healing powers.
When the class winds down at 6:30, keep it easy by closing out your weekend across the street at the Trenchermen or if the air is right, snag a spot on Chop Shop's rooftop.
We want to see how you participated in Namas(DAYS)! Share with us on Facebook, Twitter, and Instagram.

Molly McCormack Moody is a freelance copywriter who enjoys lending her talents to up-and-coming artists, galleries, start-ups, and fitness institutions.
Photo courtesy http://www.pamlilak.com/