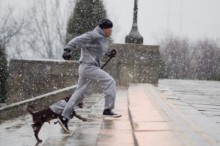 And so it goes - Labor day has graced us with its presence and the summer sun and heavy heat will soon leave us wondering, "How will I ever survive the cold months in this city?"
Chicago Athletic Clubs is here to help you combat the summertime blues by reminding you that as a Chicagoan you are an all-wheel-drive type of human; a champion of brisk weather activities both indoor and out.
Whether or not we're already your fitness home, here's a list of five things you can do at CAC to maintain your summer activity levels well past the season's expiration date.
Keep that swim suit handy - we have pools (and hot tubs, too):
Did you know Chicago Athletic Clubs has four pools? Not a member at a location with a pool? No worries. Take a dip for free on Thursdays during the clubs's All-Access Day. Not interested in being confined to one day of the week? We've got you covered there, too. Connect with your membership advisor and ask how to upgrade your membership to All-Access; there's a great chance your company or career will qualify for a discount.
Want more info? Click me.
When you've shivered yourself stiff:
Pull into relaxation station and enjoy an afternoon of massage followed by a stint in our steamroom and sauna. CAC has massage therapists located at our Lakeview and Evanston locations. From Deep Tissue to Prenatal to Thai, our massage therapists will help to ease your woes and bring your body ease. You'll qualify for a member rate as long as you're a member at one of our eight locations.
Ready to pencil in some body bliss?
Stay Summer Ready :
You know that terrible UGH feeling you get when June shows up and begs you to hit the beach? Why not defeat that feeling early by joining our morning bootcamps? Available at seven of our club locations, CAC bootcamps motivate you to jumpstart your day with a quality sweat sesh through diversified work outs and measured results. The increased energy is an added bonus.
Find an accountabilibuddy:
Winter is coming and it's hard to go it alone, especially when an old fashion and duck fat fries seem to warm the body just as well as a workout. Find a friend and make a commitment to stay sane through the dark months with the magical power of exercise. You know it makes you feel pretty great, don't even try to fight it. Find someone that will keep you honest and drive you to push yourself, healthy competition is a good thing. Have someone in mind that's not a member? Good for you, friend! You just found yourself $30. Speak with a membership advisor at your home club about referral opportunities, along with household rates.
Keep it classy:
Group Fit Classes - they're all included and chances are you probably haven't even tried one yet. Toss your flipflops and fears of starting off new to the wayside. Everyone starts at square one and no one, especially the instructor, will mind your questions or lack of rhythm. With classes like Live DJ Spin, Zumba, Strength and Stride, and Yoga Sculpt there's something for everyone.
Schedules are available here, or on our app, just search Chicago Athletic Clubs in the app store.
We'd love to hear how you transition from outdoor adventurer to indoor warrior. Share with us how you use your membership to stay active during the chilly months on our Facebook page or Twitter, @chicagoathleticclubs. Feeling like a selfie? Get creative and tag us, @chicagoathleticclubs, on Instagram.