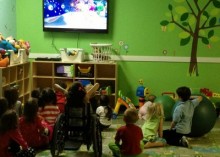 There's nothing like a night out together when you have kids. Having your first child though, it can be a challenge to find a trusted person to babysit! I am fortunate enough to be surrounded by plenty of helpful family, so it's not often that I find myself without a sitter. But every now and then, it's so nice to just do an impromptu dinner out together and drop off June at Kids Club Movie Night! There's no planning ahead involved, no making sure there's dinner ready for the kids and the sitter, and the cost is significantly less – just 20 bucks (and $10 for each additional child)!
We have Movie Night at Kids Club every Friday night at rotating locations. The first Friday is at Lincoln Square, second Friday is Lincoln Park, third Friday is West Loop and Evanston, and the fourth Friday is a rotating location "Bonus" Movie Night for just $10/child. I love that Movie Nights are all access! So you can check out a different restaurant or neighborhood each week or month.
Kids get SO excited to wear the pjs to Kids Club and watch one of their favorite movies. The night begins at 6:00 and the kids get to play as we wait for everyone to arrive. We begin the movie around 7:00, after everyone has had a chance to wind down from seeing their friends and the novelty wears off of being at Kids Club at night. The rules for watching the movie are, "You don't have to sit and watch the entire time, but you do have to stay quiet so we can respect our friends if they choose to watch." We've become experts on which movies to show (note to self: kids these days are NOT into The Muppets!) based on the reception at past movie nights. Movies with lots of songs and funny characters are the best attention grabbers, especially for the age three and younger crowd.
Movie Night is all ages – 8 weeks and up! Some parents wonder how that works with babies and little ones or if it's too late for them. For infants under 1, we attend to their needs and most parents then request they go in their car seat when time to sleep, for easy transport home. I remember doing this when June was about 7 months old and I came back expecting to pick up a sleeping child, only to find she stayed up and watched all of Monsters, Inc! And there's no limit on how long they need to stay! Movie Night ends at 9:00, but you can pick up at any time. Many kids start to leave around 8:30. After the movie ends, the kids work on an art project related to the movie until they get picked up for the night.
We do recommend/prefer you register online before coming to Movie Night, so we can staff it accordingly. And we don't accept any drop-ins for Bonus Movie Night, due to its popularity (we had 48 kids this past Friday!). Here's our line-up for April:
April 4 – LSAC – Tangled
April 11 – LPAC – Despicable Me 2
April 18 – WAC – The Croods; EAC – Despicable Me 2
April 25 – BONUS Movie Night – EAC – Frozen!
See you then!

Christina Fulton | CAC Kids Club Director
Christina Fulton is the CAC Kids Club Director. She has been with the clubs since 2003 and has one child of her own.