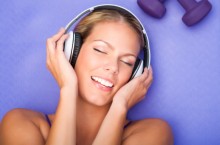 One of the great gifts of technology is our incredible access to a massive library of music at the touch of a button. Long gone are the days of the Walkman or Discman when you had perhaps two dozen songs at your disposal. Though working out in concentrated silence or to the sounds of nature has its appeal, great, energizing music can enhance your workout and make exercising more enjoyable. Music can motivate you to push through a tough set or an endurance challenge; it can decrease your conscious effort and improve your concentration with the simple addition of the right backing track.
We will explore more specific benefits of adding music to your workout in future blog posts, but for now let me introduce you to some fresh workout music to keep things interesting. Those who have attended my classes at LVAC, WAC, or as a sub at the other clubs, know that I put considerable effort into creating engaging playlists (and very minimal effort into restraining myself from singing along throughout class).
The most important thing to remember when putting together a solid workout playlist is to keep the Beats Per Minute, or BPM, upwards of 128-fast enough to prevent you from tapering off when the club anthem ends and a mid-tempo power ballad begins. Also, keep your volume level in check. Loud music can cause hearing damage and bother the people around you. You may want to hear "Call Me Maybe" over and over, but does the guy on the next treadmill? And finally, don't let the music distract you from listening to your body. Be mindful of signs of fatigue, pain, or exhaustion to keep your workouts healthy and safe.
Despite the fact that I take great pleasure in pushing my music taste on everyone, the most important thing is to play what you like and what keeps you motivated. Check back in with me on the 15th of every month here on the CAC's website and social media for more new workout jams and tips on integrating music into your workouts to make them more successful and enjoyable.
Check out these three new albums and get them on your playlists ASAP:
Morgan Page - In The Air (2012). Morgan Page is a progressive/electro house DJ from Los Angeles whose fifth studio album, In The Air, dropped in May of this year. Each song features a random club artist you probably haven't heard of, but the album is solid top to bottom, and each track will keep you gunning through your workout. Album highlights are Body Work and the titular track, In The Air. Watch the gym-themed Body Work video here: http://www.youtube.com/watch?v=QHe1PvKALaY
The Young Professionals - 09:00 to 17:00, 17:00 to Whenever (2011). The Young Professionals (TYP) are an Israeli DJ duo whose long-winded 2011 album finally made its release into the United States market just recently. Its symphonic techno has a little something for everyone, and any of the tracks will make a great addition to your workout playlist. Be sure to check out 20 Seconds and their dare-I-say epic cover of Lana Del Rey's masterpiece Video Games, that actually sounds like it's an 8-bit jam emitting from your Nintendo64 (or whatever the kids are playing these days). Watch 20 Seconds here: http://www.youtube.com/watch?v=x7TvtWLnHUc
Marina and the Diamonds - Electra Heart (2012). Marina Diamandis is a Welsh Shakira-lookalike with the beats and rhythms to match the Colombian songstress. Her second studio album, Electra Heart, just dropped in the United States and is a must-have. The bottom half of the album is more mid-tempo for your cool down, but you shouldn't have any qualms putting the top half on repeat for your workout. How To Be a Heartbreaker and Radioactive certainly do not disappoint. Watch Radioactive here: http://www.youtube.com/watch?v=dU7GoCKSQfg
By Zach Haller
(@zachhaller on twitter)